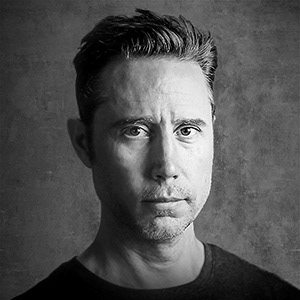 I'm an Art/Creative Director who's worked in Games, Films, and Advertising since 1994. I have decades of experience in Art Direction, Visual Development, Concept and Product Design. A recognized leader in the video games industry who's shipped over 22 game titles and founded four independent studios.  
I've worked on a ton of amazing projects throughout the years, but distilled my online portfolio down to my proudest (and more recent) works. I'm proud of where I've been, but always looking for the next big challenge. Something that pushes the limits of creativity and hopefully carves a memorable mark in history. I know I won't last forever, but I sure hope to create something that will.
When I'm not creating artwork or shooting photography - you can find me watching (studying) films, mountain biking, hiking, fishing, woodworking, or drinking beer with friends and family.  I'm a simple man with simple needs. 
I'm currently working as Studio Director at 
Kontur FX
. A creative production studio specializing in real-time 3D visualization, virtual production, and high-end imagery for Films, Games, Agencies & Architects.
Need help on a creative project?  Give me a shout here:
howdy [at] mphstudios.com
Vicious Circle --  PC (Steam)
Achievement Hunter HEIST -- Tabletop
Millions Dollars, But: The Game -- Tabletop
RWBY: Grimm Eclipse -- PC, Xbox One, PlayStation 4
HALO: The Master Chief Collection -- Xbox One
Age of Booty: Tactics -- iOS
Whole Foods: Awesome Eats -- iOS
The Wizard of Oz Game -- iOS, Facebook
Marvel Avengers Initiative -- iOS
Epic Mickey -- Nintendo Wii
DC Universe Online -- PC, PlayStation 3
Guilty Party -- Nintendo Wii (cinematics)
Stubbs the Zombie -- Xbox
Aeon Flux -- Xbox, PlayStation 2 (cinematics)
QUAKE: Mission Pack #1 -- PC
Duke Nukem 3D -- PC (Marketing)
Shadow Warrior -- PC (Marketing) 
Terminal Velocity -- PC (Marketing)
Xenophage -- PC (Marketing)